RoseSkinCo™ IPL Laser Hair Removal Handset
Sale price Price $129.95 USD Regular price $299.95 USD
Official IPL Laser Hair Removal Handset designed to deliver long-lasting visible results in just 3 weeks, full-body treatments are done in 30 minutes, just once per week.
Beautiful. Unique. Effective.
Works on any body part including the face and Brazilian area. Your handset will utilize clinical-grade technology that is certified for safe and effective at-home hair removal. 
Get long-lasting results at the fraction of the cost of clinical laser treatment.
The best part is... there are no hidden costs and no refills needed, ever!
Handset Explained
The RoseSkinCo™ IPL Laser Hair Removal Handset is the perfect solution for anyone looking to try out laser hair removal at home. Using cutting-edge intense pulsed light technology, our IPL device uses powerful light pulses to destroy unwanted hair follicles and offers quick and long-lasting results.

Ideal for long-term, permanent hair removal, this laser hair removal device can perform a full body treatment in as few as 30 minutes - and it's pain-free! 
Light energy from IPL is absorbed by the melanin in the hair, which then turns to heat and destroys the hair cells. This causes hair regrowth to slow down significantly after each treatment. With visible results in just 3 weeks, and full results within 12 weeks.
Kiss that unwanted hair goodbye, for good.
Is It Safe?
There have been numerous clinical studies conducted that demonstrate the safety and effectiveness of IPL for hair removal. Due to this fact, it has become an extremely popular option as a safe and effective method of hair removal at home and in clinics.
Does It Hurt?
One of the biggest advantages of IPL over other forms of hair removal is that it is basically painless! The feeling can be described as a warm sensation on the skin.
Our Guarantee
- Not happy? Not a problem! We are proud to offer a risk-free 90-day money-back guarantee. Just follow our money-back guarantee protocol to receive a full refund! 
- Your handset is covered by a full 1-year warranty! If your handset has any defects within 1 year of use we will replace it! 
- Your handset is certified for safe use, you know you can trust the quality of your product. Don't risk using an uncertified device!
- Customer satisfaction is our 

main

priority.
We have over 100,000+ happy customers around the world using our product! 
Available Online Only. We Ship Worldwide!
RoseSkinCo™ IPL Laser Hair Removal Handset
Sale price Price $129.95 USD Regular price $299.95 USD
Customer Reviews
Write a Review
Ask a Question
Filter Reviews:
results
hair
legs
difference
skin
hair growth
device
areas
times
laser
07/02/2021
Giulia

Italy
I recommend this product
Very satisfied! It works!
MY EXPERIENCE I came across this product on Instagram and I was curious about it. I have always struggled with body hair, in particular during summer. I previously did laser in a salon but I wasn't satisfied, so I decided to try the IPL laser hair removal. I received the product after 2 weeks, shipped from Canada to Italy. PAIN LEVEL When I received the product I immediately started to use it on my armpits. I used intensity 1 the first time to get used to it, but it wasn't painful at all. Then I gradually went to level 3 and 4. I also tried it on my arms, where I have a tattoo, which I would simply cover with dark brown tape. My skin is sensitive and I didn't find the product painful at all, it just felt like some warmth on the skin. I used to shave just before starting the treatment session and I didn't experience any bad reactions or discomfort. I usually waited a few hours before applying underarm deodorant, just to be that there is no discomfort. I like how my skin doesn't feel irritated compared to how it would feel every time right after waxing or epilating. MY RESULTS After 4 weeks of use, I could already see some improvements, my hair was growing back a bit slower. A few weeks in, my hair became thinner and grew back in spots. Now at week 12 the hair barely grows back. It has saved me a lot of time because I don't have to shave my armpits every day as I did before. I can probably go a couple of weeks without shaving now and will continue to use this once in a while to slow that down even more. The picture shows how my hair looked before each treatment. ps. Please ignore the redness in the last picture, because it has NOTHING to do with the product, it's just dermatitis I always have during summer :) FINAL THOUGHTS I am very impressed and satisfied with the results, I definitely recommend this product. So far, I saw improvements and I can tell that it is safe. I will start to use it on my legs and bikini area and hope to see the same results. TIPS - take a picture every week before shaving to monitor improvements - use a notebook to write down the intensity levels and progress - cover any tattoo before using it - apply some body cream to moisturize after treatment - use a razor to completely clean the area - use stamp mode on armpits and try glide mode on arms - be patient and constant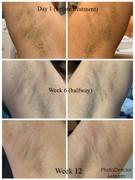 03/08/2021
Rhy

United States
I recommend this product
O.M.G.
The only reason I bought this product was because of the reviews...so I'm adding this one in case someone else needs that extra "this is legit." I have been using the product for about a month and am AMAZED. IT WORKS!!!!! Including two pics. The first is one I took at the beginning of the process - the other was taken today (last time I shaved was a week ago).
12/13/2020
Shae

Canada
I recommend this product
BEST PURCHASE EVER
I was quite skeptical this would work but I figured I'd try it out because I HATE shaving. I've now been using it for 6 weeks once a week on my underarms, legs and bikini area. All I can say is WOW. Normally my hair is growing already the next morning after shaving. But now after I shave I don't see or feel hair coming back for 5 days and when it does its very sparse! By the time I'm doing my next treatment each week there's barely any hair to shave lol. Its taking a little longer for my underarms but I can imagine it lakes longer where the hair is thicker. I LOVE this and highly recommend it.
10/06/2020
Mery

Australia
I recommend this product
Excellent results
I promised myself to use this device for a couple of months then come and make a review, however I would like to admit I am horribly terrified by the results after 3 sessions once a week, mind-blowing. I was full of doubts whether this works or not, it worked very quickly and effectively on me though. I am happy I didn't make any purchase on the well-know expensive products (over 800$) and trust this affordable handy product, thank you Roseskinco, I am expressing my best skin-life right now, not hairless yet, obviously, but soooo much less hair with tremendously slow growth almost all the parts of my body. I extremely recommend this product.
07/04/2020
Celeste C.

Canada
I recommend this product
It does work!
I am on week 4 and I already notice a difference in the growth rate and thickness. I use it on my legs, bikini area and lower facial hair. My skin is sensitive and I use levels 3-4. I did try level 5 and I got a slight burn, so I won't be using that level. I am excited to see what 12 weeks total will yeild.
Hi Celeste, Soo glad to hear about the great results you are having with the handset already! Week 4 is still very early in the treatment and to see a significant reduction in hair growth is great! Also, yes generally week 4 is way too early to try level 5 intensity. We only recommend upping the intensity once per week, and only if you feel you need it. It is great that you are willing to go back to the lower levels. in regards to healing the small burn a little aloe vera or moisturizer should do the trick! Hope you continue enjoying your handset and for more results to come!
I recommend this product
Best Purchase Ever. Made my life so much easier
Best purchase I ever made, saved me time and money, very simple to use you just need to make sure to shave beforehand and it won't hurt at all. Full body takes me about 30 minutes on the auto flash setting (it is on manual in my video). I noticed my hair slowing down after 3 weeks but don't expect to much of a difference at the start, after 6 weeks is when the real results started to kick in. Now on my 12th week I don't even need to shave most areas. Areas like my armpits are more stubborn but are growing back slower, so I will continue to treat that area as they recommended when I asked them about it. It made my life so much easier I used to shave almost everyday. The user guide is simple and provides good tips to use it properly and the packaging is beautiful as well. This thing saved me so much money because I was spending almost $250 per session at my laser clinic. (and I was only doing my face!!!!) The only downside would be that it takes a little bit longer to see results than the clinic but that is to be expected as this is done at home. Also, it does not come with protective eye wear, although it isn't necessary to wear anything as long as you look away when it flashes,(as the flash isn't as bright as the clinics) I was recommended regular sunglasses if I wanted extra protection, which works just fine. Thank you so much for this ingenious product it really is impressive. I will definitely be recommending it to family and friends.
Hi Rosie - That is great. We are so happy to hear it. Thank you for the review. ❤️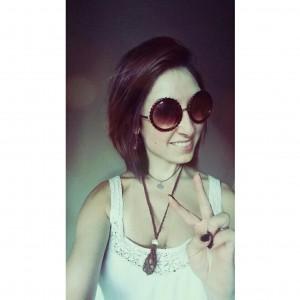 EM
09/12/2019
Erin M.

United States
09/08/2019
Jean P.

United States
I recommend this product
Hair removal that works
I didn't see any results until about 1 month after I used the handset once every week. But after the 4th week there has been a significant decrease in hair growth. I do still need to pluck at times but no where near as much as before.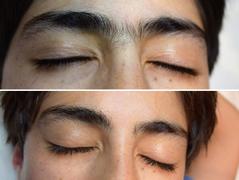 Hi Jean - Thank you kindly for your feedback. We are so happy you are seeing results. Please keep us posted. ❤️
09/08/2019
Amanda C.

New Zealand
I recommend this product
Great product!
Easy to use, light weight. I can only imagine how quickly the world of waxing will change... the access to this product made my life much easier. Very serious company to buy from. I'm a 100% happy client! I passed the great news to some of my friends! AAA+++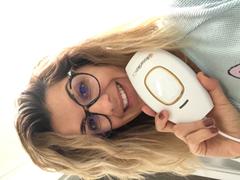 Hi Amanda, That is great to hear. We are so happy you are enjoying it. ❤️
So many options
There were so many companies selling this same handset and I found that RoseSkinCo had the best service, they even helped me after my purchase and made sure everything was in order, love this company they put the customer first, the handset also works very well, my friend has a similar one from a different company, she paid about $50 more for her one, they work the same.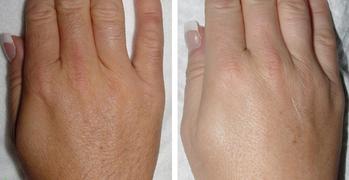 So glad your satisfied with the RoseSkinCo IPL Hair Removal Handset ❤️ Yes there are many competitors but we pride ourselves on being the most customer orientated company in the market. Thanks for the great review!