Aloe Coconut Body Lotion
Sale price Price Regular price $19.00
🌿 Paraben-Free   🐇 Cruelty-Free   💓 Sulfate-Free 
Give your skin the TLC it deserves. 
Our deeply moisturizing body lotion was made with some of nature's most soothing and nourishing ingredients, to help you feel more confident and happier in your own skin. 
The key to healthy-looking and pleasant feeling skin is a moisturizer that both hydrates and heals, helping protect and promote softness in your skin. We developed a formula that could be used as both an everyday body lotion, as well as an aftercare cream for anyone going through IPL hair removal. The Aloe Coconut Body Lotion was created with all skin types in mind, from dry to very dry skins to even the most sensitive. 
With a touch of a tropical scent, our Aloe Coconut Body Lotion is packed with naturally derived ingredients, each carefully selected to help lock in moisture and leave your body looking and feeling its best.  
Our carefully selected ingredients:
🥥 Coconut Oil – Known for its moisturizing and anti-inflammatory properties, coconut oil is nature's answer to beautifully moisturized skin.
🎍 Aloe Vera – A hydrating natural ingredient that can soothe even the most damaged skin. Mostly used as an After-Sun treatment for sunburn and aftercare for IPL laser hair removal, Aloe Vera's healing qualities have allowed dry skin to feel soft and touchable while soothing any feelings of discomfort on your skin.  
🌷 Rose Extract – Other than its delightful scent, rose extracts offer an antioxidant and healing solution to troubled skin. Rose extract can help reduce redness and even provide anti-wrinkle care. 
🌰 Shea Butter – A hydrating component, shea butter has been used to help absorb moisture into your skin. Shea Butter can be easily absorbed into the skin and help to lock in moisture for a long period.  
Post-IPL Laser Hair Removal Aftercare with the Aloe Coconut Body Lotion
When going through IPL hair removal, it's normal to experience redness, slight swelling, and bumps. It's important to make sure that you use an aloe-based cream or lotion in between sessions to make sure your skin can easily heal and minimize any feelings of discomfort. The Aloe Coconut Body Lotion is the perfect laser hair removal aftercare cream. When purchasing our at-home IPL Laser Hair Removal Handset, we recommend using the body lotion as an aftercare treatment to soothe the skin, help treated areas maintain their moisture, and protect the skin's barrier in between hair removal sessions. 
How to use the Aloe Coconut Body Lotion
After every shower, smooth a generous amount of the lotion onto your skin, rubbing it in until fully absorbed. Reapply the body lotion onto dryer parts of the skin, as well as areas you have recently used our IPL Laser Hair Removal Handset on to ensure that every part of you is taken care of. If you're shaving, make sure you also cover every part of the body that has been recently shaven to help prevent any signs of razor bumps. Be sure to use the body lotion whenever you experience any dryness or discomfort throughout the day.
100% Money Back Guarantee

1 Year Warranty

Free Shipping Worldwide
Sale price Price Regular price $19.00
Customer Reviews
Write a Review
Ask a Question
Filter Reviews:
body lotion
skin
lotions
Leaves
Everywhere
shower
experience
09/19/2021
Kayla L.

United States
I recommend this product
Pretty nice
The lotion smells nice and I like it! What I don't like is that when you try to open the cap, it can be tight and the moment you open it, it squirts everywhere. I don't know if it's just me. And the lotion is not as thick as other lotions. But other than that, it's great!
07/31/2021
Stefany D.

United Kingdom
I recommend this product
It's so refreshing
It hydrated my skin and let so soft. I always use this body lotion after shower for a refreshing experience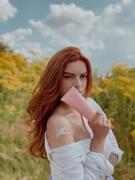 Hello Stefany, Gorge! Gorgeous!
07/31/2021
Wanessa D.

United Kingdom
I recommend this product
Loved
I loved the body lotion. It is really good and smells nice! Leaves the skin well hydrated and really soft. Loved so much.
Hello Wanessa, Thank you for your purchase! Glad you tried our body lotion! It definitely hydrates your skin!