VDAY: BOGO 50% OFF all beauty tools
Deep Exfoliation Glove
Out with the dull, and in with the smooth with the Deep Exfoliating Glove, made to make you feel good in your own skin. 
%productVideo%
Just Wet, Scrub and Rinse
Our Deep Exfoliating Glove gently sweeps dead skin cells away to reveal soft, smooth, and beautiful skin. Inspired by an ancient beauty technique, it requires no skincare products or soap. All you need is water and a good scrubbing!
Bye Bye Dry and Flaky Skin
Using the Deep Exfoliating Glove on your body regularly can help tackle dry, sensitive and flaky skin, especially if you have keratosis pillars. PLUS! It can also prevent pesky in-grown hair and random dry patches. 
Reveal your inner glow
Even if dry skin isn't your main concern, regular exfoliation can help remove any dead skin cell build-up, which may cause the skin to look dull. After a few weeks of using the Deep Exfoliating Glove, you can expect your skin to reveal its inner glow. 
It's all in the fabric
Carefully created to be both gentle on the skin and effective in removing dead cells and flakes, we made sure to design an exfoliating glove with a soft, sturdy and towel-like fabric. Its flexibility also allows for the material to move with your hand to reach every contour of your body.
Kind to your skin and kind to the Earth
The Deep Exfoliating Glove is made with 100% vegan, cruelty-free and reusable material. 
How to use the Deep Exfoliating Glove 
Before exfoliating, make sure to 'steam' your skin for at least 5 minutes. This can be done by either taking a super quick bath or shower. No need to apply any soap or lotion at this point! 
Put on the glove, and dampen it, squeezing out any excess water. 
Scrub your body by rubbing the glove in quick circular motions. For the best results, use long and firm strokes. 
When you're done, rinse your body and glove with gentle soap and water.
After your shower/bath, apply a moisturizing lotion or cream to your body to lock in the softness. 
Use the glove no more than 1-2x a week and make sure you replace the glove after every 4 weeks of use!
Using the Deep Exfoliating Glove with your IPL laser hair removal device 
While the Deep Exfoliating Glove can be used by anyone who wants softer and smoother skin, we created the exfoliating mitt with our IPL device users in mind. Before each session, we highly advise users to exfoliate and shave the skin before using their IPL device. Scrubbing away dead skin cells will help give your IPL a smooth canvas to work on. This is so the light technology can easily target your hair follicle, giving you the best results possible for every IPL hair removal session. Just be sure to wait at least 24 hours after exfoliating before using your IPL device or any other laser hair removal treatment.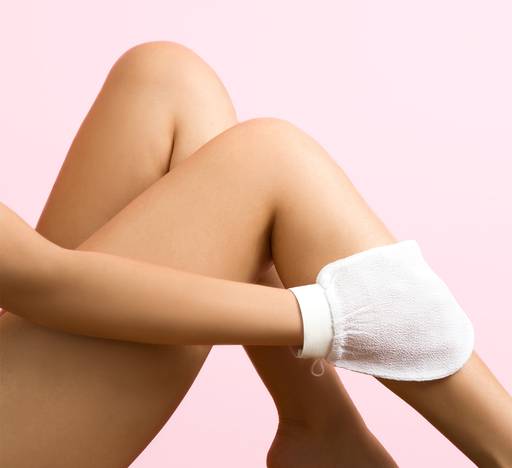 Gentle yet effective
Sturdy enough to remove dead cells and flakes & soft enough for sensitive skin.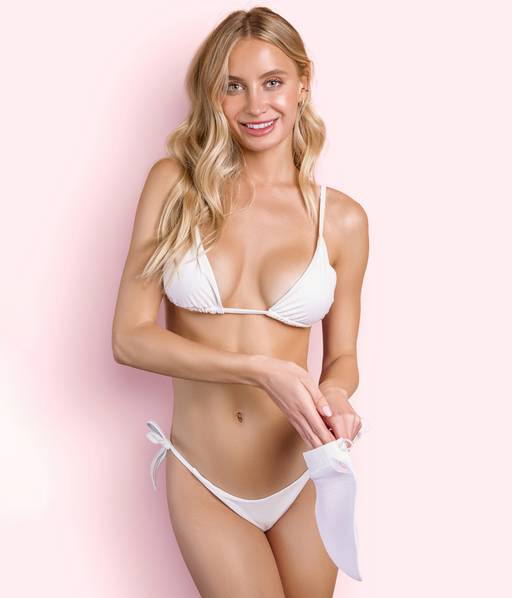 One size fits most hands
So go ahead – order one for yourself, your BFF, and your partner while you're at it.
100% vegan, cruelty-free, and recyclable
Minimal waste, maximum effectiveness.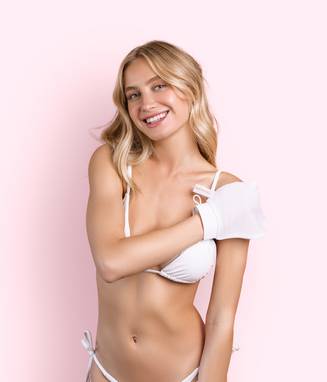 SEE YA, DRY SKIN
Spa-worthy results from home
Brighter, softer skin
Remove dullness to reveal silky skin that seems to glow from within.
Works on any body part
Reach every contour of your body with flexible, gentle fabric.
No lotion, body wash, or soap required
Save your soaps – just add water!
Our Customers
Hear it from the people.
KEEP SHOPPING
Ooh, have you seen this?